By Customer Type
Oil & Gas
DijlaNet is the go-to communications provider for the oil and gas industry in Iraq. Unlike other satellite companies that serve the oil and gas patch, DijlaNet's only focus is Iraq. We cover every square inch of the country, with 24/7 remote and on-site customer and tech support. While other companies in Iraq are confined to isolated "Green Zones" and military bases, DijlaNet is a "Red Zone" operator with offices, networks and personnel in all parts of the country — including those remote and sometimes high-risk locations where oil and gas companies operate and require reliable broadband communications. Although our only market is Iraq, we provide our customers in Iraq with secure global connectivity to their sites and offices around the world.
After consultation with the customer, DijlaNet will design and implement a broadband communications solution that meets the customer's requirements, timeframe and budget. A typical oil and gas customer in Iraq may require a single network with a combination of fixed and mobile broadband communications capabilities at the following types of sites:
Corporate and field offices
Housing compounds
Remote and/or mobile sites
Oil and gas customers also typically require a variety of broadband service applications, such as:
Large data/file transfers
Remote surveillance cameras across multiple sites
Routine Internet connectivity (email, browsing, chat) at home and office
Videoconferencing
Voice Over IP (telephone) applications such as Skype
Whether via one or more of DijlaNet's existing citywide wireless networks, or via the rapid deployment of remote/mobile iDirect satellite hubs, or both, DijlaNet will design and implement a single network communications solution tailored to the customer's needs, across a variety of sites in Iraq and with a variety of applications and bandwidth levels.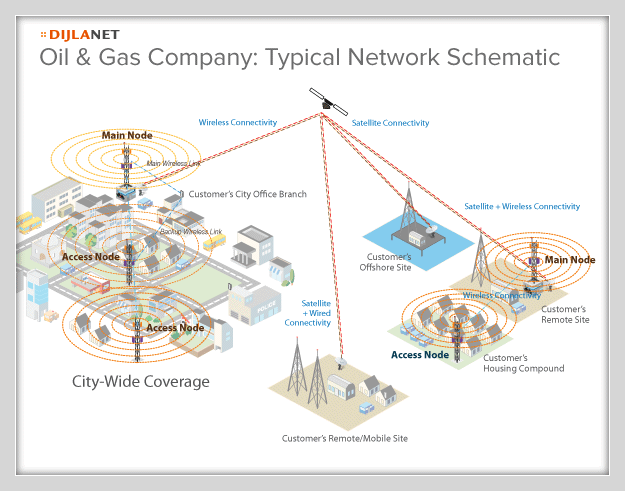 DijlaNet is truly the "one stop shop" communications solution for the oil and gas industry in Iraq. Please contact us to arrange a confidential consultation to discuss your company's communications requirements in Iraq.
Please click on DijlaNet Platinum for a description of our dedicated wireless service, and DijlaNet Satellite for information on our remote satellite services.
DijlaNet is profiled by the prestigious Hart's E&P and Oil and Gas Investor magazines as the go-to communications provider to the oil & gas sector in Iraq.